A Word From The Managing Director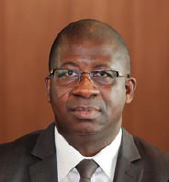 2015 turned out to be the year of effective implementation of major deve- lopment projects in Abidjan Port.
It all started on 21st September 2015 when Mr. Daniel Kablan DUNCAN, Côte d'Ivoire's Prime Minister inaugurated the pier of the Fishing Harbour.
Then followed the laying of the foundation stone, on 6th October 2015 by Mr. Amadou GON COULIBALY , State Ministry , Secretary General of the Presidential Offices , which marked the start of works relating to the widening and deepening of Vridi Canal and the construction of a second container terminal .
Thanks to these new infrastructures Abidjan Port will become a first class logistic platform with the capacity to handle ships up to 350 m length and 16 m draught.
The pier of the Fishing Harbour will enable to handle larger tuna ships and to provide operators in the shing industry with better working conditions through the development of 5 ha land space and quays up to 10 m draught.
As far as the new container terminal is concerned,
I will make it possible to increase the handling capacity from 1 200 000 TEU/ year presently to 3 000 000 TEU/year by the year 2020.
Other projects which also took off in 2015 will reinforce our achievements, namely the rst phase of the land reclaimation project in the Vridi Lagoon Bay to provide operators with additional Industrial landspace
These major investments confirms our ambition to permanently position Abidjan Port as a Leading Port on the West African Coast and to better meet the requirements of our customers and partners through the provision of better quality service s
Always mooving toward the improvement of quality services and the protection of environment, our committment to put in place an integrated quality management, health, environment standard-phase level 1/3
2015 also proved to be a year of higher performance of the company.
As regards trafic, we have maintained our leadership in west and central Africa through an overall trafic of 21 926 247 million tons of cargo. This accounts for 5.3% increase as compared to 2014.
AS far as domestic trafic is concerned, we recorded 5.7% growth as compared to the previous year, with 18 180 489 tons in 2015 as against 17 198 166 tons in 2014. The growth is the refection of the good health of our national economy.
Another motive of satisfaction is the steady growth experienced over the last three years of our transit traf c which recorded 25.8% growth in 2015, with 2.3 13.245 tons as against 1.8 39 .220 tons in 2014 and 1.8 28. 466 tons in 2013. This encouraging performance is the result of actions undertaken to recover our lost market shares
As regards transhipment trafic, we observed 21.3% decrease with 39 723 TEU in 2015 as against 50 413 TEU in 2014. So as to develop this trafic, the Abidjan Port intends to implement new more attractive strategies towards shipowners and traders in consultation with public services.
On the financial level we have continued our efforts to maintain nancial equilibrium in our company.This performance resulted in "A" rating for long term prospects an "A1"- for short term prospects granted to our port by Bloom eld Investment Corporation, a Panafrican Rating Agency , which reinforces the credibility of our company vis-à-vis national and international financial institutions.
These optimistic results are achieved thanks to a security environment that we have been able to ensure through our renewed ISPS Certification, as well as our committment to value corporate citizen.

In order to head for the building into a Leading Port, we intend to pursue our infrastructure development policy with the construction of a bridge connecting the port area to "Boulevard de Marseille"; the deepening of west quay for the berthing of big vessels ; the construction of liquid waste processing unit, and also with the construction of a 30 ha logistic platform in PK 27 on the highway "AutoRoute du Nord" ; the construction of a grain terminal and a mineral terminal.
Through the implementation of all these projects, Abidjan Port Authority, more than never, is willing to be the strong and active real link for the emergent Cote d'Ivoire by the year 2020. 
The 2013 fiscal year ended in a slight decline in general cargo, not because port's activity experienced a slowdown but rather owing to the drop in oil products traffic.​ The traffic thus went down from 8,529,450 tons in 2012 to 7740337 tons in 2013, 9.3% decline. The drop by no mean affected the vitality of Abidjan Port which nevertheless recorded 4.2% growth in general cargo as compared to the previous year. Moreover vessel traffic went up by 0.3% with 5825 vessels in 2013 as against 5810 in 2012.Fishing products also increased by 5.8% from 603,959 tons in 2012 to 638923 tons in 2013.
These encouraging results shows the true efforts made by our company through various sensitization, commercial promotion lobbying missions carried out all out towards our economic partner which took the opportunity during these meeting to explain their specific problems.
The significant recovery of traffic with hinterland countries gave us satisfaction. In fact, after the diversion of transit traffic to competing ports of the sub-region in 2011, the following years were marked by the massive return to Abidjan Port of operators from Burkina Faso, Mali. Thus from 1613132 tons of goods recorded in 2012 the traffic went up to 1,828,466 tons in 2013, a significant growth of 13.3%. 
As for transhipment traffic, it decreased by 16.1% as compared to 2012 with 117.28 thousand TEUs as against 139.71 TEUs in 2012.Whith that in mind the Port of Abidjan intends to develop new and more attractive marketing strategies towards shipowners and traders so as to reverse the trend. Moreover, the putting into service of the second terminal shortly would enable to boost tremendously this traffic.
These results satisfying all in all added to the rigorous management obviously had a favourable impact on the turnover which therefore grew up by 14.1% as compared to 2012.this improvement is a sign of better prospects both in the short and long run for our institution.
Surely, this growing trend in commercial and financial results over the last years gives evidence about the dynamism of our Port.
All together resolutely committed to the new perspective for the building a third Port of reference on the Atlantic Coast of Africa. Our Achievements are also attributable to our customers who renewed their confidence in the expertise, the know how and capacity of the Abidjan Port which is thus encouraged and more motivated to serve much more efficiently the domestic and sub regional economy.
Of course we take advantage of the great ambition of the President of Republic who breathed new life into government's action, and thus contributed to the repositioning of the Port of Abidjan which became more attractive.
Nevertheless our satisfaction should not prevent us from concealing recurring problems which are regularly raised by the port's users such as the low draught, the shortage of storage space and parking lots for trucks, insecurity and harassment along the transit corridor etc.
To compensate these shortcomings which we consider as challenge to take up, the Abidjan Port Authority is undertaking since 2014 major development projects aiming at rehabilitating existing infrastructure and building new ones. These projects include the construction of a second container terminal (TC2) at south quay. To this end an agreement was signed on 19 December 2013 between the State of Cote d'Ivoire and APM Terminal / Bolloré Africa Logistics/ Bouygues Telecom Group as the successful tenderer. The future Terminal which comprises 1250 m long quay ( 3 berths) 18 m deep, 37.5 ha open storage, positions itself as the deepest terminal of the Atlantic coast of Africa and the first in the region with facilities to handle 8500 TEU capacity ships. TC2 is designed to be an attractive terminal for shipping companies and economic operators backed by a commitment to grant 40% tariff discount.
TC2 will handle at the end 1.5 million TEUs per year, thus doubling container handling capacity of the Port of Abidjan.* The Abidjan Port platform therefore will be endowed with the most important transhipment hub on the Atlantic Coast of Africa.
The other major projects consist in the widening and deepening of the fairway of Vridi canal which would enable the port of Abidjan to handle ships with 16 m draught without any limit in length. The development of Vridi Bietry lagoon bay with a view to creating 35 ha space for the setting up of industries, rehabilitating and upgrading the fishing harbour would enable to handle ships with draught up to 10 m and to gain 19 ha of additional industrial land space. .
The ambition of the Port of Abidjan to raise soon a third hub along the Ebrie lagoon on the west coast of Africa is beginning to take shape in a very secured environment in compliance with ISPS Code and favourable to the development of quality service provided to ships and cargo which call at port, the guarantee of an ever renewed 9001/2008 ISO compliance. 
HIEN Y. SIE
MANAGING DIRECTOR