You are here
»
»
2020 RAMADAN THE MANAGING DIRECTOR OF ABIDJAN PORT AUTHORITY MADE A DONATION TO RADIO ALBAYANE AND TO THE AL-MUWASSAT NGO
Back to top
2020 RAMADAN THE MANAGING DIRECTOR OF ABIDJAN PORT AUTHORITY MADE A DONATION TO RADIO ALBAYANE AND TO THE AL-MUWASSAT NGO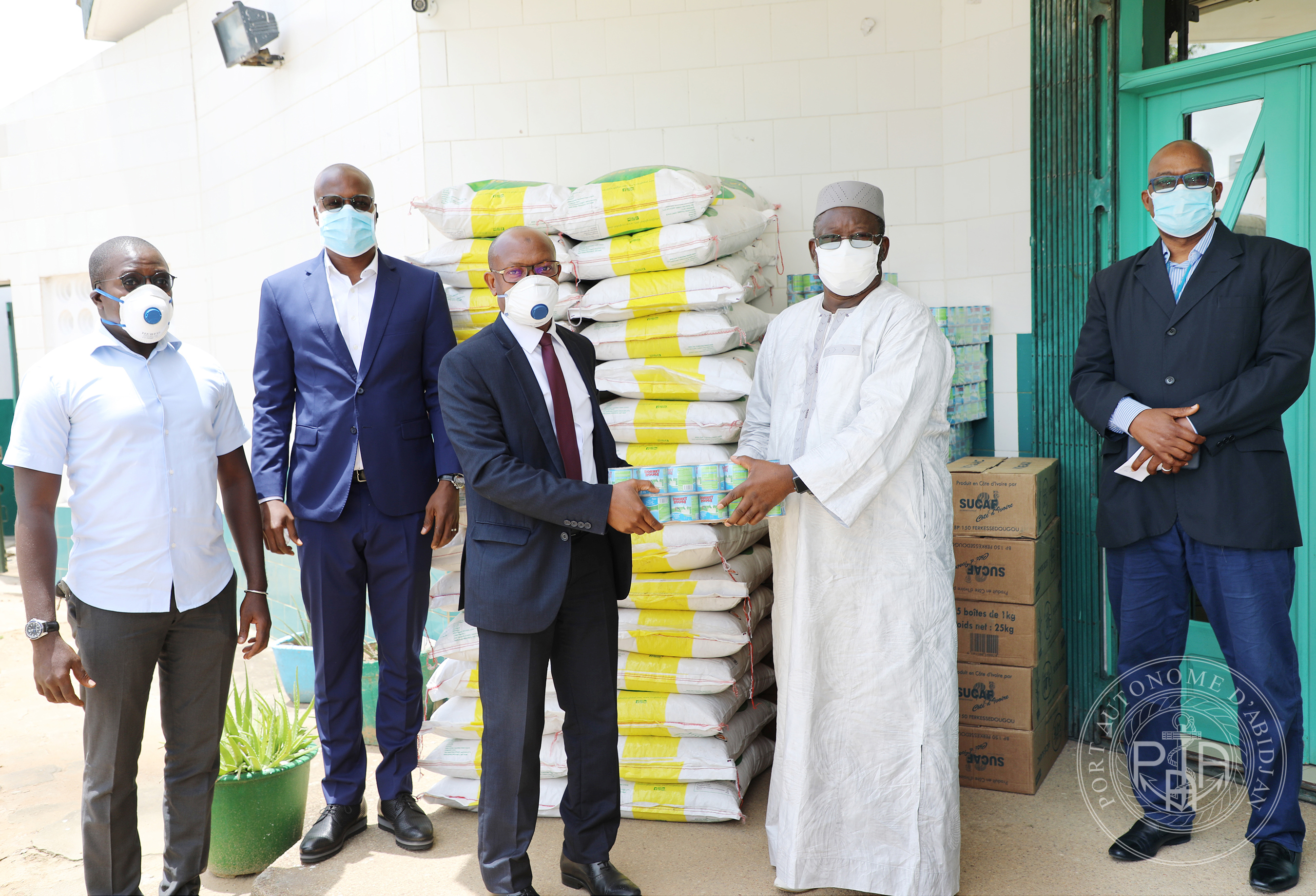 Autres
2020 RAMADAN THE MANAGING DIRECTOR OF ABIDJAN PORT AUTHORITY MADE A DONATION TO RADIO ALBAYANE AND TO THE AL-MUWASSAT NGO
Wednesday 27 May 2020
As usual, the Managing Director of Abidjan Port Authority gave a support to the Muslim Community during the 2020 Ramadan month.
On Tuesday 28 April 2020, a delegation of Abidjan Port Authority mandated by the Managing Director, Mr Hien Yacouba SIE gave a food donation to the Muslim worshippers of Albayane Radio and TV located in the Abidjan's Riviera-Golfe Mosque.
Mr OUATTARA Almamy, Financial and Acount Director of Abidjan Port Authority said that the donation including 60 bags of rice, 20 sugar cartons and 10 cartons of milk aims at supporting the community during this difficult period marked by the covid 19 pandemic.
Iman CISSE Djiguiba, Director of Albayane Radio, as the recipient, saluted the generosity of the port and also send blessings to the Managing Director and his collaborators.
Moreover, the very same day, another donation including 6 tons of rice, 2 tons of sugar and 20 cartons of milk was made by Mr TOURE Zoumana, Director of the Port Estate to Al-Muwassat NGO located in « CHU de Treichville ». EL Hadj Harouna KONE, Iman of the Mosque, Chairman of the NGO thanked Mr Hien Yacouba SIE for his sense of sharing and solidarity.
Let's recall that Al-Muwassat NGO is a muslim charity organization which strives for the medical, spiritual and moral care of hospitalized, poor and sick people.