You are here
»
»
THE ABIDJAN PORT AUTORITY IS TESTING ITS INFRASTRUCTURE.
Back to top
THE ABIDJAN PORT AUTORITY IS TESTING ITS INFRASTRUCTURE.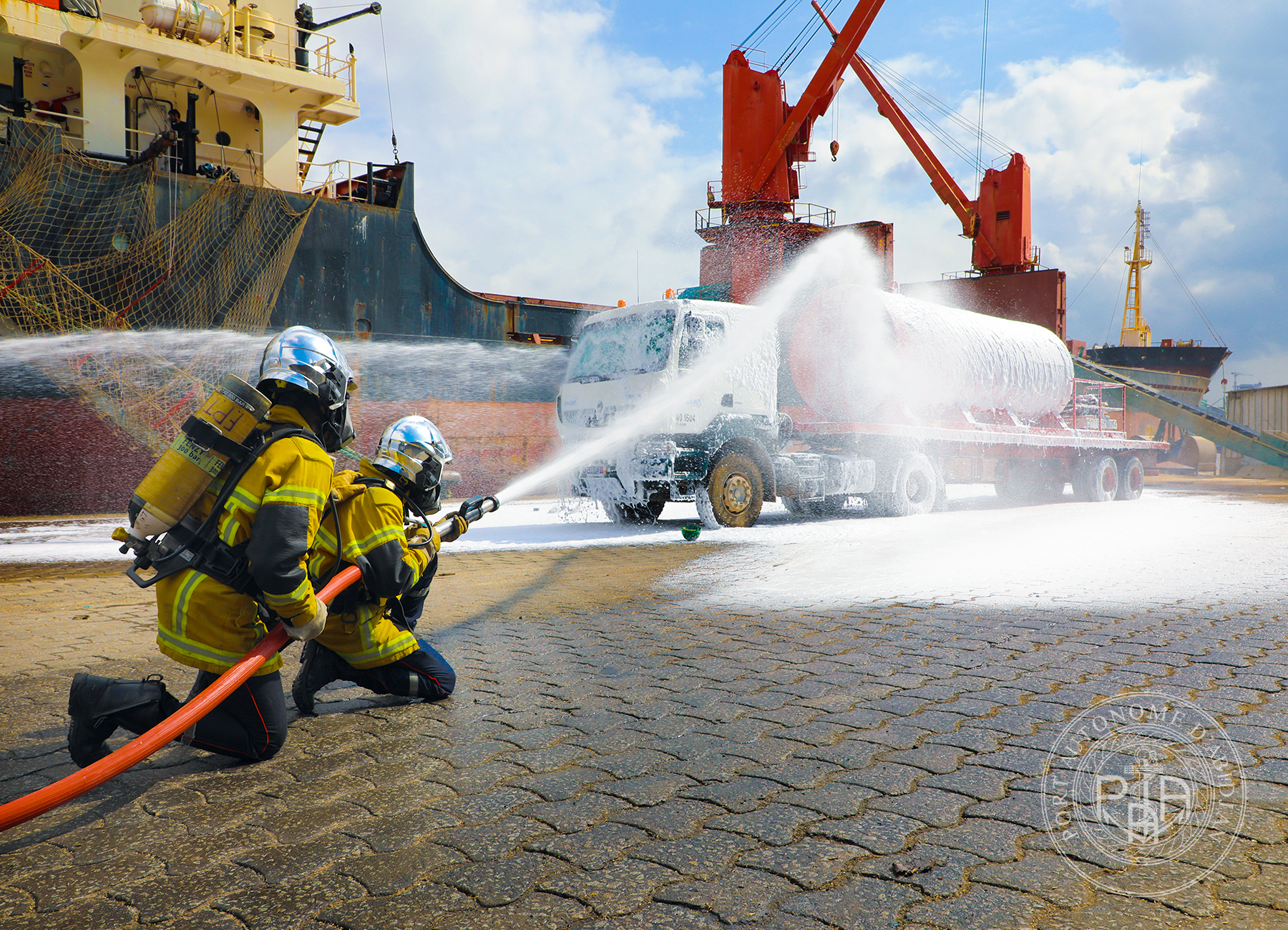 Sécurité maritime
THE ABIDJAN PORT AUTORITY IS TESTING ITS INFRASTRUCTURE.
Monday 23 August 2021
On July 15th 2021, the Abidjan Port Authority conducted a fire drill on its infrastructures. The drill took place at quay n°1 of the grain terminal in order to test the Internal Operation Plan (IOP) on the one hand and on the other hand, the port area various structures operational capacity.
The simulation focused on the management of a fire on board a tanker truck containing 38,000 liters of diesel, in a quayside ship refueling operation. In fact, under the effect of the pressure, the hose connecting the truck to the ship broke, causing a spill of the hydrocarbon on the ship deck, on the thermal motor pump of the truck and on the quay. The scale of the simulated incident required the rapid establishment of a crisis unit and the triggering of the IOP by the Port Authority, during which all parties involved, internal and external, had for primary missions to fight against the fire, to rescue the victims, to secure the facilities on the quayside but also to protect the environment. This drill, according to the conclusions of the stakeholders during the final debriefing, was generally positive, given the control of the operations that took place and the perfect coordination of actions between the various structures involved. As safety and security are very important factors in the competitiveness of ports. The Top Management of Abidjan Port Authority, like in previous years, intends to continue this type of full-scale test to regularly test its ability to react effectively to all types of incidents that may arise on the Abidjan Port platform. Note that the Abidjan Port's inhouse firefighters unit benefited, during this exercise, from the much appreciated support of certain partners called in as reinforcements, namely the G.S.P.M. (Military firefighter group), S.I.R. (Ivorian refinery company), G.E.S.T.O.C.I. (Ivory Coast Petroleum Stock Management Company), BOLLORÉ Corp, and IRES (Ivorian Towing and rescuing Corp).