You are here
»
»
CEREMONY FOR THE WINNER OF MISS MATHEMATICS CONTEST AND HOUPHOUET-BOIGNY's MISS MATHEMATICS IN 2022
Back to top
CEREMONY FOR THE WINNER OF MISS MATHEMATICS CONTEST AND HOUPHOUET-BOIGNY's MISS MATHEMATICS IN 2022
Error message
Notice: Undefined index: main-menu in menu_block_view() (line 510 of /var/www/vhosts/portabidjan.ci/httpdocs/modules/menu/menu.module).
Notice: Undefined index: main-menu in menu_block_view() (line 510 of /var/www/vhosts/portabidjan.ci/httpdocs/modules/menu/menu.module).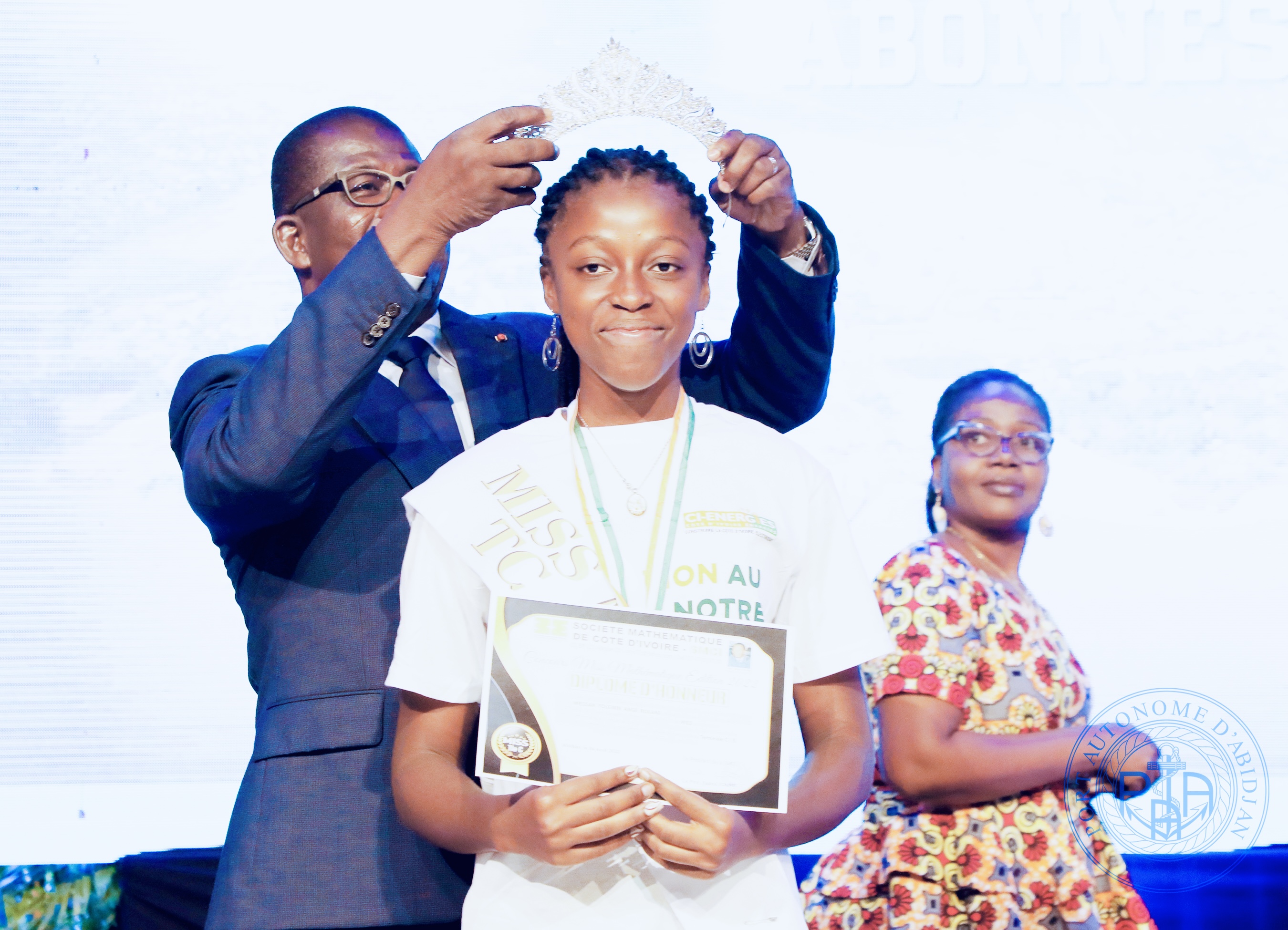 Autres
CEREMONY FOR THE WINNER OF MISS MATHEMATICS CONTEST AND HOUPHOUET-BOIGNY's MISS MATHEMATICS IN 2022
Thursday 01 September 2022
Launched on 4 May, 2022 in "Lycée Sainte Marie de Cocody", the prestigious "Miss Mathematics, Côte D'ivoire" contest reached its climax on Thursday, 4 August 2022 in "Palais de la culture de Treichville", during the ceremony for prize winners. This double ceremony was placed under the high patronage of professor Marietou KONÉ, Minister of National Education and Literacy, under the sponsorship of Mr Hien Yacouba SIÉ, Managing Director of Abidjan Port Authority (PAA) and with the effective presence of Professor Saliou TOURÉ, Chairman of Côte D'voire's Mathematics Society (SMCI).
In her speech, Minister Marietou KONÉ welcomed the initiative of these two contests which became a true institution meant for « changing attitudes torwards mathematics, the common denominator of all scientific subjects and for making mathematics literacy more accessible in schools in order to reveal models of success » and congratulated the recipients for their good performance in this subject.
Mr Hien Yacouba SIÉ, sponsor of the 16th edition of the Miss Mathematics contest, in his turn indicated that the objectives of the contest are in line with the principle of corporate citizen which PAA has been claiming through social and corporate social responsibility. Thus, he  asserted that his institution was committed to backing this noble initiative of Societé Mathematique de Côte D'ivoire through a partnership agreement over the next five year.
« I would like to congratulate these young girls for having chosen to overcome their fear of mathematics, and create hope for a brighter future for mathematics in our country which has already been awarded continental laurels » he added. Lastly, he expressed his gratitude to SMCI for having involded him in this intellectual competition which promotes academic excellence.
Let's note that the aim of Miss Mathematies contest is to encourage young girls to choose science topics in general, and mathematical science particularly. The winners of the 2022 edition came from several renowned schools. As regards the junior high school grade, Miss KONAN Anne Bérénice from "Lycée Mamie Adjoua" ranked first as Miss Mathematics. As, for senior high school with major in mathematics and in science, Mrs MIESSAN Youemin Ange Roxane from "Lycée d'Excellence Alassane OUATTARA de Grand Bassam" was crowned Miss Mathematics.
For the Felix Houphouet-BOIGNY's Mathematics Contest intended for both girls and boys from junior to senior high school, nine (9) pupils were  rewarded including two pupils from Lycée d'Excellence Alassane OUATTARA who have been awarded the Felix Houphouet-BOIGNY's Great Prize.