You are here
»
»
Fight Against the Spreading of COVID 19 DONATION BY THE EUROPEAN UNION OF SAFETY EQUIPMENT TO THE IVORIAN PORTS
Back to top
Fight Against the Spreading of COVID 19 DONATION BY THE EUROPEAN UNION OF SAFETY EQUIPMENT TO THE IVORIAN PORTS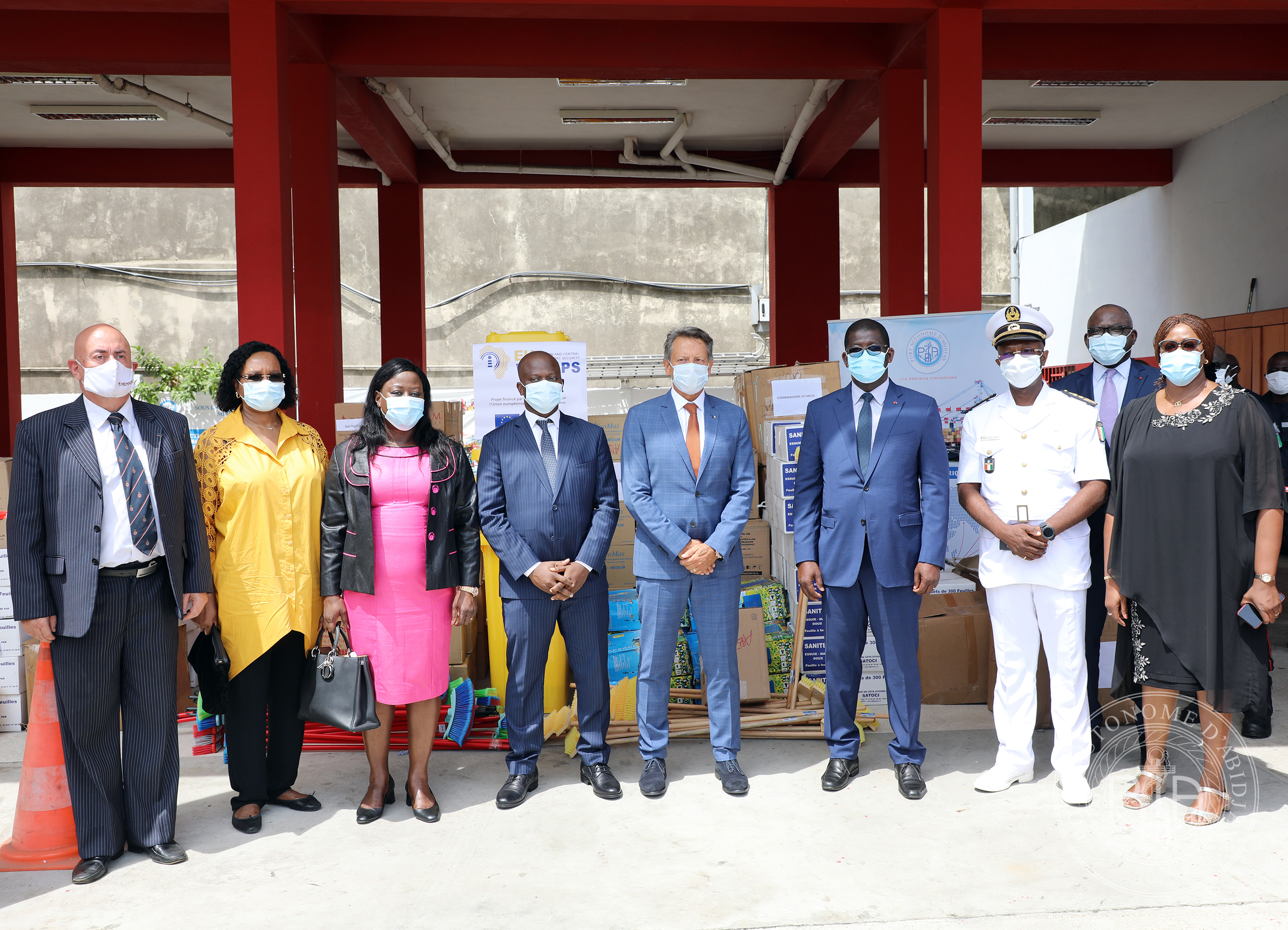 Autres
Fight Against the Spreading of COVID 19 DONATION BY THE EUROPEAN UNION OF SAFETY EQUIPMENT TO THE IVORIAN PORTS
Friday 12 June 2020
On June 8th 2020, the Executives of Ivorian Ports (Abidjan and San pedro Port Authorithies) received donation from the European Union to reinforce the COVID 19 pandémic plan which was already being implemented on both port platforms.
His Excellency JOBST VON KIRCHMANN, European Union's Ambassador to Cote d'Ivoire was the one who gave the donations made up of disposable coveralls and gloves, masks, hydroalcoholic gel, liquid soap, infrared thermometers nearly amounting to 52 million CFAF. This action is to be put to the credit of WeCAPS project, a European Union's program which aims at helping strenghen security and safety of ports in western and central Africa.
During the event which took place in the Abidjan Port's fire station, the EU Ambassador urged the Ivorians in general and port workers in particular, to comply with barrier measures enacted as part of the fight against Covid 19. 
He highligted the fact that the Government removed some provisions does not mean that the pandemic is eradicated. According to the Diplomat, the increase in the contamination rate which has been observed in our Country lately is due to the misunderstanding.
However, he congartulated the Ivoirian Port Officials for the arrangements made in order to ensure business continuity despite the crisis and encouraged them to continue their efforts to take a great part in the Ivorian economic recovery which is negatively impacted by the pandemic.
Receptive to this expression of solidarity of the greatest social and humanitarian importance, Mr Hien Yacouba SIE, acting as a spokesman for the two beneficiairy ports thanked the EU for this contribution and also stressed on the strict compliance with these barrier measures.