You are here
»
»
HIS EXCELLENCY MR ALASSANE OUATTARA LAID THE FOUNDATION STONE FOR THE CONSTRUCTION OF THE SUPERSTRUCTURES OF THE SECOND CONTAINER TERMINAL (TC2)
Back to top
HIS EXCELLENCY MR ALASSANE OUATTARA LAID THE FOUNDATION STONE FOR THE CONSTRUCTION OF THE SUPERSTRUCTURES OF THE SECOND CONTAINER TERMINAL (TC2)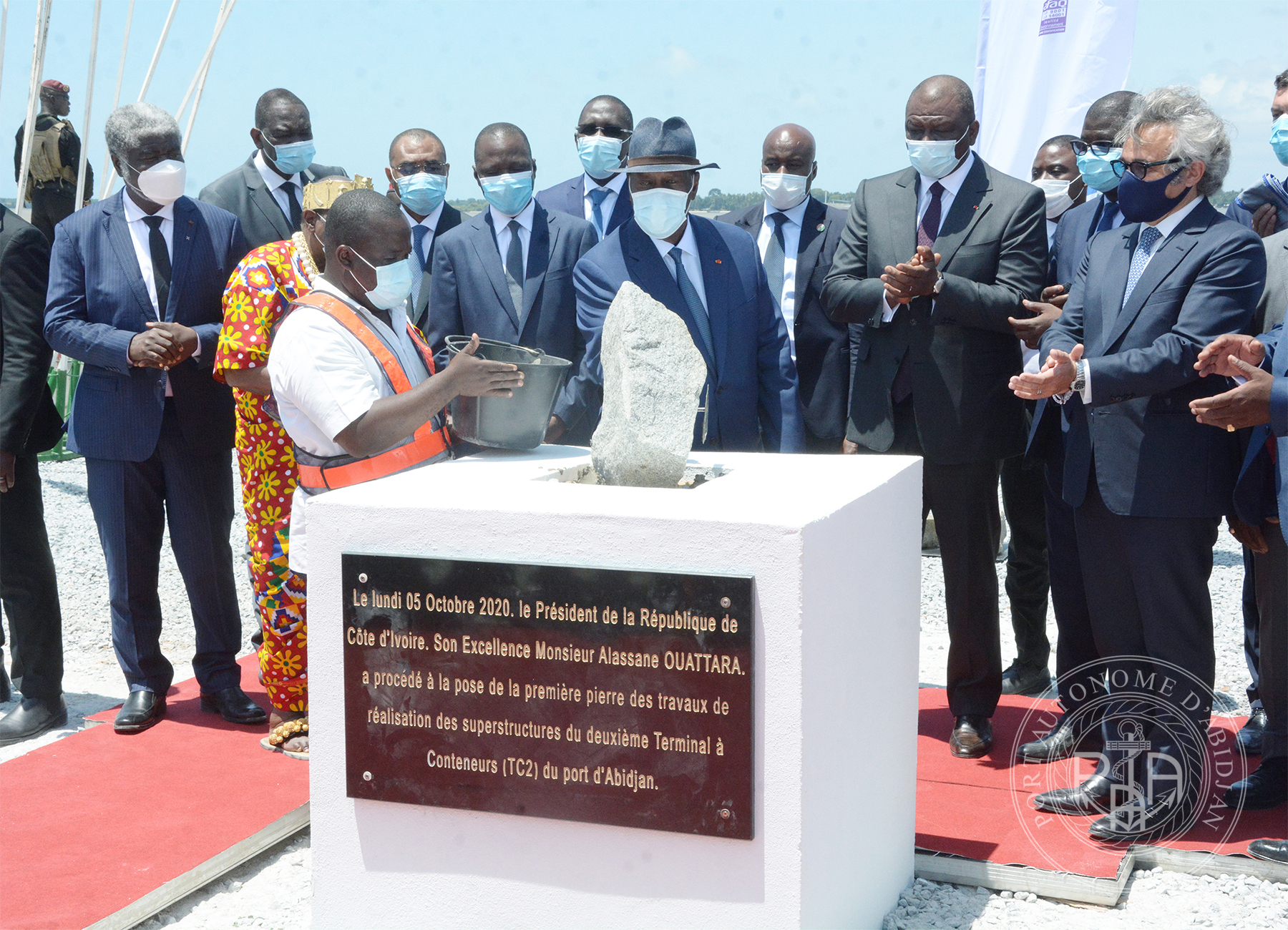 Activités portuaires
HIS EXCELLENCY MR ALASSANE OUATTARA LAID THE FOUNDATION STONE FOR THE CONSTRUCTION OF THE SUPERSTRUCTURES OF THE SECOND CONTAINER TERMINAL (TC2)
Friday 09 October 2020
On 5 th October 2020, His Excellency Mr Alassane OUATTARA, President of the Republic accompanied by Mr Hamed BAKAYOKO, Prime Minister laid the the foundation stone for the construction of the superstructures of the Abidjan Port's second container terminal in the presence of technical and financial partners of the project.
The construction works amouting to 262 billion CFAF i.e 400 million Euro, for a duration of 18 months, come within the framework of Abidjan Port's modernisation projects. With time, the second container terminal will enable the reception and handling of 14000 TEU container vessels with 16 m draught , unlike 3500 TEU vessels with 11,5 m draught calling at the port presently.
Mr Amadou KONE , Minister of Transport congratulated all the stakeholders ( technical and financial parties , representatives of the State, the Managing Director of Abidjan Port Authority , the Abidjan Port's workers, the CHEC firm , and BOLLORE Trust ) who have worked hard to complete the project.
In his address, he stated that, there would be a need of additionnal investments, precisely for the Abidjan Bypass Project including the building of major crossing works of Vridi Canal, and which would enable to connect Petit Bassam to PK 24 on the North Highway going through Jacqueville.
During his speech, the Managing Director of Abidjan Port Authority announced that more that 1000 billion CFAF have been invested by the Ivorian State in the Abidjan Port over a period of nine (09) years in order to reposition it as a leading port . Moreover, he expressed his wish to fulfill his dream of seeing the Abidjan Port become a true industrial port complex with the development of free zones on its 3500 ha land reserves, located in « Ile Boulay » and on the west side of vridi canal.
Mr Philippe LABONNE , vice president of Bollore Trust intervening on behalf of Côte d'Ivoire Terminal, the statutory company , stated that this ultra modern terminal will be fitted with 06 shore gantries, 13 yard gantry cranes and 36 tractors among others . The container will also be certified « Green Terminal » thanks to its equipment supplied with electricity.
For his first visit in Abidjan Port, the President of the Republic expressed his pride for the work done, and indicated that the second Terminal project is dear to his heart owing to its impact on employment. As a matter of fact the project, once in operation, will provide 450 direct jobs.
According to the Ivorian Head of State, the project gives evidence of stability of Côte d'Ivoire in which investors have placed their trust, as it is the case of Bolloré Trust which he wants to congratulate.